Our library is in its second phase of gradual reopening since July 15, 2020.
All books, DVDs, games and toys are now available for loan.
Please note that during this phase the library remains closed to the public and therefore we will not be able to accept anyone in our premises.
However, our members can return their loans by appointment and continue to reserve items through our online catalog and collect them through the Curbside Pick-up service.
Our team is working very hard at the moment to prepare the third stage of our reopening. A lot of work must be done upstream in order to make our places and our resources safe for both our members and the centre's employees.
We thank you for your patience, your cooperation and we assure you that we are actively working to restore the service.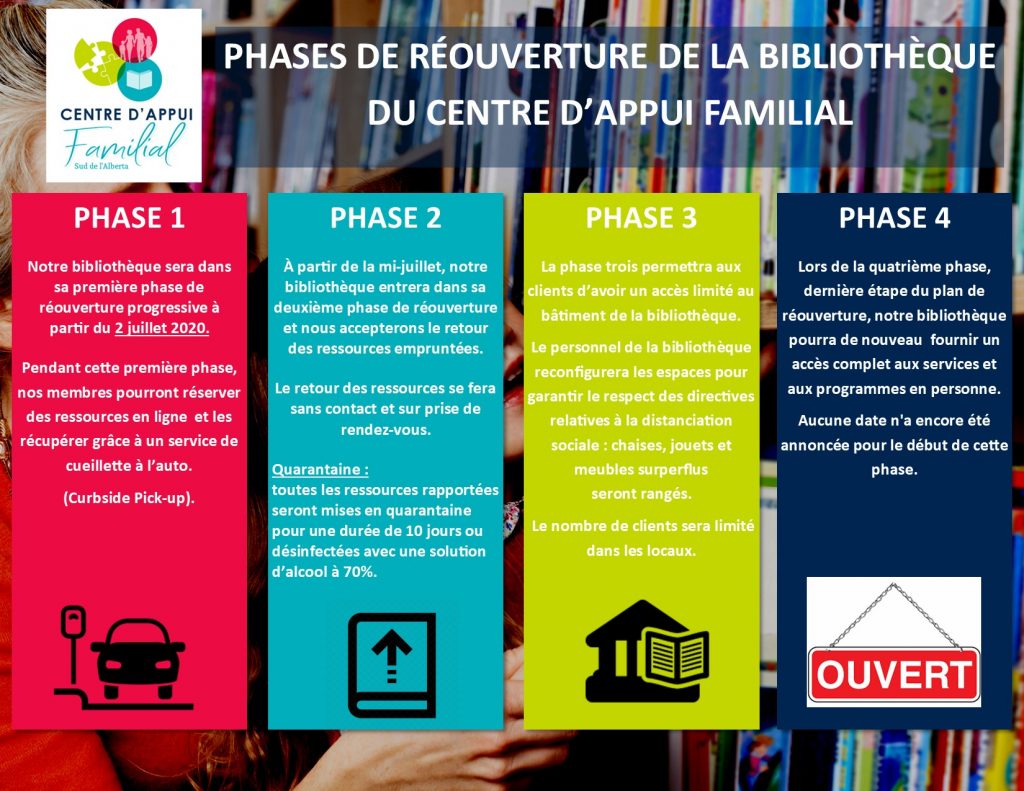 Please note that
The library remains closed to the public during this first stage.
The membership of all our active members have been extended by 5 months.
The due date for all borrowed items has been extended to September 1.
Your current loans can only be returned once our second stage of reopening begins (date to announced soon). Please keep the borrowed items at home for the moment.
Since you cannot yet return your loans during this first reopening stage, all our members are exceptionally authorized to continue borrowing items even if you already have loans at home. The limit of 20 resources authorized for borrowing per members is currently removed. We will put it back in place once the second stage of the reopening begins.
Our team is working hard at this time to prepare for the second stage of our reopening.  We are putting in place procedures to ensure that our library as well as our resources are safe for our members and our employees. We sincerely appreciate for your patience and your cooperation during this unprecedented situation.  We assure you that we are actively working to re-establish our programs and services.