Families in Southern Alberta are supported in French, in their well-being and their development.
Le Centre d'appui familial (Family Support Center) offers programs and resources in French in the following areas:
Parental support
Healthy child development from the ages of 0-18 years old.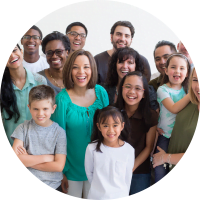 Sense of belonging to the Francophone community…. it's supporting the diversity of families that choose to live in French by offering programs and services to reinforce strong social ties with the Francophone community.
Inclusion… it's the openness and adaptability to respond effectively to the varied needs of the community.
Transparency… it's the integrity and the accountability in the delivery of the mandate and in the implementation of programs and services.
Team spirit… it's the unity that the whole team demonstrates to promote the vision, a positive synergy in their interactions and a coordination and  complimentary in their personal contributions while working towards their common goals.
Families that value French and have children between the ages of 0 and 12 years old:
Families in Calgary,
Families in Southern Alberta
Share this, Choose Your Platform!