Activities for school age children
Our activities offer a fun way to practice your French by learning and discovering.
Preschool aged children explore and learn with adult, while school age children can be dropped off to enjoy certain activities in French.
Goal of our activities:
Promote well-being for children by offering positive and interactives experiences in French.
By living positive experiences in French with children of the same age, children build strong and lasting bonds with the community and the French language. This is essential to boost their self-confidence, reinforce a sense of belonging and support identity creation.
Promote play, imagination and curiosity

Our varied activities, allow children to explore, play and create at their own pace in a stimulating environment. The chance to explore, question and imagine is key to the healthy child development, as it reinforces learning and problem solving.
Benefits of arts for children
The benefits of arts for children are numerous. Arts allow children to develop their critical thinking, their problem resolution and their creativity, allowing them to see the world in a new and innovative manner.
The benefits of sports for children
Practicing a sport allows children to remain active and healthy. From a social point of view, teamwork creates relationships with peers and provides the confidence to encourage children to form relationships. Practicing sports encourages mental and physical well being which supports healthy development in all aspects of theirs lives. Sports also encourage determination amongst children as it takes practice and resilience to master a choreography or complete the drills required to learn the strategy of a game.
 "Research indicates that a child who is exposed to the arts acquires a special ability to think creatively, be original, discover, innovate, and create intellectual property—key attributes for individual success and social prosperity in the twenty-first century."

Quote taken from the International Child Art Foundation
Here are a few of the activities that we offer allow in a structured and fun environment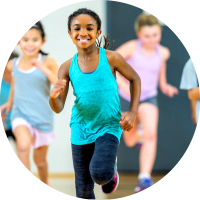 Cartoon workshops
Visual arts workshops: to promote creativity
Science and discovery workshops: explore and discovery while having fun
Introduction to Drama
Construction workshops 
Active workshops: Zumba, soccer, dance…
Board games with friends and families
Our workshops take place Saturdays at the Cité des Rocheuses.  We also organise activities for PD Days and holidays.