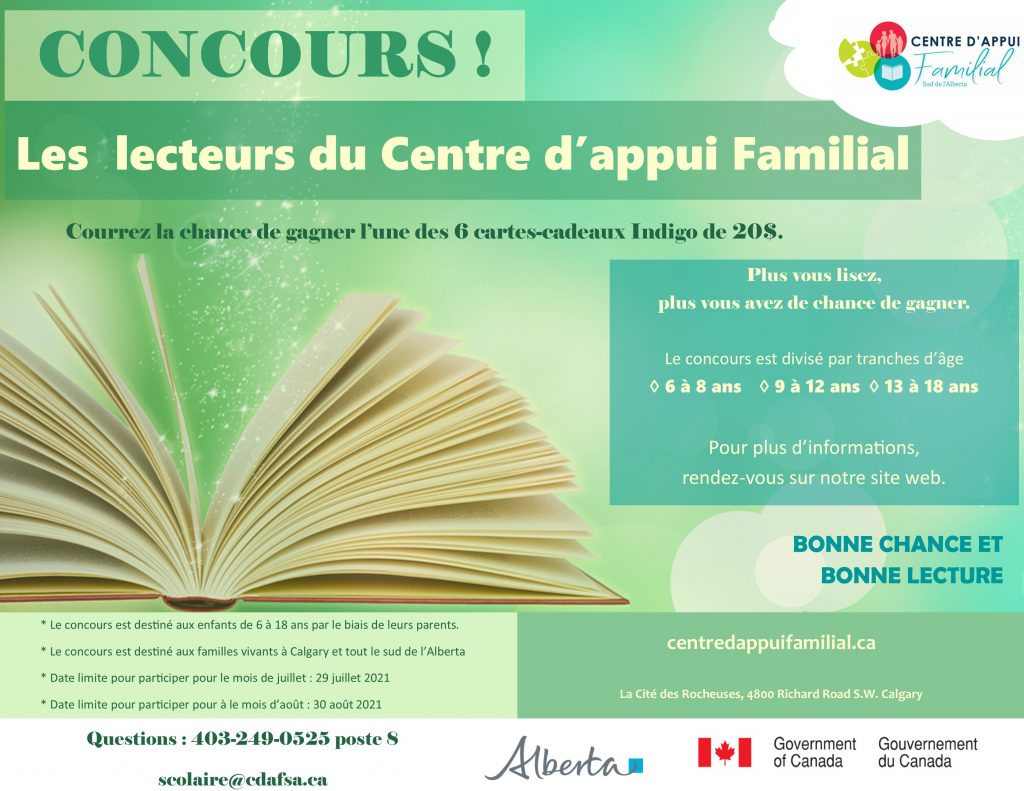 Summer contest!
The Centre d'appui familial invites you to participate in our contest! All summer long, we invite you to devour French books. It's simple, the more you read, the more chances you have of winning. For each book read, the child must complete the reading comprehension document according to his age and send it to us. To be won, one of 6 $ 20 Indigo gift cards.
Download your reading comprehension document or request them from our library when you borrow:
Compréhension pour les 6 à 8 ans – Compréhension pour les 9 à 12 ans – Compréhension pour les 13 à 18 ans
Send your completed reading comprehension to Nolan at scolaire@cdafsa.ca: 1 completed reading comprehension = 1 entry into the draw
GOOD LUCK AND GOOD READING!
For any questions, contact Nolan at the following email address: scolaire@cdafsa.ca or at the following number: 403-249-0525 Ext 8.
* Deadline for July: July 29 – * Deadline for August: August 30. The draws will take place on July 30 and August 31.
** One gift card per age group per month will be drawn at random from all reading comprehensions received during the month.
Become a Reading Buddy!
The participation of volunteers as Reading Buddies is very important and allows us to offer a reading club for beginners. If you would like to help children read in French and want to know more about our Reading Buddies volunteer program, click here
Partagez, Choisissez votre Plateforme!